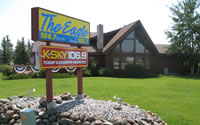 MONTANA'S SUPERSTATION...THE EAGLE.
The Eagle at 104.7 and 105.7...we are MONTANA'S SUPERSTATION NETWORK. With TWO locations on your radio dial, you can listen to the Eagle in the mountains and valleys... wherever you go in southwestern Montana!

The Eagle made its debut the day before Thanksgiving in 2003 as KBZM at 104.7 in Big Sky. When we had the opportunity to add the 105.7 frequency in 2005, we 'cloned' the Eagle at 104.7 and put the same format on the new frequency with a transmitter site on the west side of Bozeman, making the Eagle at 104.7 and 105.7 the only station, combo or group of stations in the region which has the capability of serving the mountain areas and the valleys...a true SuperStation!

The Eagle is your local home for classic rock! We've built Southwest Montana's most exciting radio station, playing all the best songs from rock & roll's greatest years, and have established ourselves as the heritage adult rock radio station in the region. In an era where corporate conglomerates have assembled complex clusters of radio stations that get their marching orders from out of town, The Eagle is proud to be locally-owned, operated and DEDICATED!

Our 104.7 broadcast transmitting site is truly befitting any eagle... high atop Lone Peak at Big Sky Ski & Summer Resort... over 11,000 feet high in the big sky! This one-of-a-kind perch is the highest FM transmitter site in the great Northwest and 3rd highest in the USA. From here we look out over some of the most beautiful terrain in all of North America and serve a huge geographic area stretching from Northeastern Idaho to Helena... and from Butte to Bozeman and points East. Our West Bozeman transmitter site for 105.7 fills in the population center of the Gallatin Valley, serving primarily Bozeman, Belgrade and Manhattan.

Musically, The Eagle really spreads its wings and gives you more variety than any other station. We specialize in playing all your favorite and familiar classics from the 70's, 80's and 90's, 24 hours a day... artists from both the rock and pop music arenas. So you'll hear liberal doses of legendary performers like Tom Petty, Aerosmith, Journey, Supertramp, Rolling Stones, Eagles (of course), Doors, Phil Collins, Elton John, Doobie Brothers, Fleetwood Mac, Bruce Springsteen and on and on. Think of it as the CD collection you wish you had!

What really sets us apart from other typical classic rock and classic hits stations is that we also play a sprinkling of "newer classics" too. That means you'll also hear the likes of Sheryl Crow, Dave Matthews, Lennie Kravitz, Creed, Nickelback, Pearl Jam, Red Hot Chili Peppers and other more recent classic artists from the 90's and today as well... giving The Eagle a sparkle and a fresher sound that you just don't get anywhere else.

And maybe the best part of all... we're always playing extra long sets of music, without all the usual DJ banter in your ears. Less talk - a LOT less - means lots more rock, and nobody in Southwest Montana gives you more than The Eagle! Our music is clearly the focus - nothing else - and certainly not DJ's yapping at you like on other radio stations.

Click here to view our coverage map! (PDF)
Click here to check out our annual EEO report.