Steve Downes, Sun 9a-11a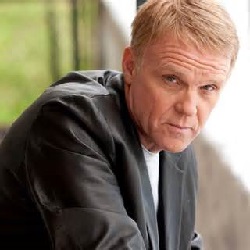 With over 35 years experience, Steve Downes is a national rock 'n' roll radio icon, although he is best known for his work as the voice of the Master Chief in the Halo video game series. He worked as a disc jockey at Los Angeles album-oriented rock radio stations KWST (1978-1981), KEZY-AM (1981-1982) and KLSX (1994).
In the 80's Steve hosted several nationally-syndicated radio shows and specials, including the Superstar Concert Series and in the 90's was host of the award-winning weekly live call-in show, Rockline. Rockline provided him with incredible opportunities: hosting the first live radio interview with all five members of the reunited Eagles, and the night he welcomed the return of Page and Plant, live and nationwide.
Most recently, he works as the morning show host for 97.1 WDRV "The Drive" in Chicago, Illinois. Steve has hosted the popular show, "The Classics" on the Eagle for over ten years, still in its original time slot, Sunday mornings from 9am to 11am.