Bill St. James - Sat 6p-10p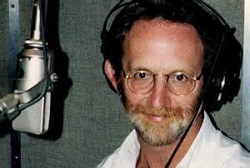 I started in radio in my home town. West Hartford Connecticut. It was the birthplace of Noah Webster, author of the dictionary. I have yet to visit his home. How cool can it be, since it's in my hometown. At 16 I worked at WEXT, a country station known as "The Country Giant". Ironic since it was a 1000 W daytime station.
While in high school I moved on to the top dog in my city WDRC, in Hartford Connecticut. When I was old enough to get a drivers license I took a job at WIP radio in Philadelphia. After a few years there I would moved on to that company's New York station WNEW. Then I was hired by NBC radio and worked for the radio network and their local station at 30 Rock. I was even the announcer on vthe final Bob Hope NBC radio network Christmas special. It was about that time I started as host of Flashback!
My spare time has been taken up with voiceover work on national commercials, movie trailers, cable networks, and being the studio announcer for NBC's Olympic coverage in Torino, Beijing, and Vancouver. Radio is still my favorite medium, and I remain an avid listener, as well as your genial host on Time Warp every Saturday night on The Eagle.