Brian Zepp - 6a-10a

"Zepp."

He was born in Pennsylvania and raised on a cattle ranch in South Dakota. His formative years were almost entirely spent tending to the animals, so when he got the opportunity Zepp decided to devote a lifetime to milking the public for a change…over that most social of all media called Radio. That's how he's spent the better part of the last 30 years (quoting him now, "Hey, it beats working for a living!"), the last 19 of them as a popular host on the legendary classic rocker KQ92 in Minneapolis-St. Paul.

Zepp - no it's not short for Zeppelin (although that would make for a good story) left the friendly confines of market #16 to head West with a true passion for the outdoors and mountain lifestyle, landing in his preferred retirement locale Bozeman, still young enough to enjoy all that Montana has to offer. He's skied Bridger, Big Sky and Moonlight Basin more times than he can remember. Zepp swore the Eagle was his "dream station," and that was good enough to land him a gig in our sumptuous Morning Chair, only the 3rd morning show host in the Eagle's history.

Catch Zepp weekdays from 6am to 10am, underpinned by Eagle Weather Command reports from chief meteorologist Diane Clarke, along with a cast of characters to be named later. You can reach him in the studio at 406-522-9977 and via email at [email protected].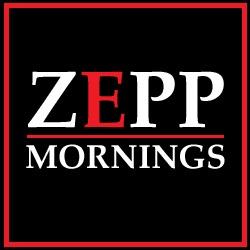 Vance Shepherd - 2p - 7p

"Not your average Georgia Peach!"

Vance Shepherd's radio career spans nearly 35 years, working in rock, pop and country.
He and his wife made a pre-pandemic move to Bozeman from Macon, GA, where he co-hosted the top rated morning show on WDEN, middle Georgia's number one country station, for more than a decade. While at WDEN he became very accustomed to doing endorsements, working for such clients as AT&T, Sllep Number, Wendy's, Del Taco, Mattress Firm and many others, including several local businesses.
Vance started doing mornings on Bozeman sister station K-SKY Country 106.9 before moving to afternoons in 2021. With his classic rock roots he jumped at the opportunity to switch hats and take over afternoons on The Eagle 104.7 and 105.7 when "Tall Boy" resumed full time duties at Montana State University.
Vance also hosts our flashback-style noon program every weekday and still keeps his fingers in K-SKY Country as he presents his popular "outlaw country" show Friday evenings.